http://www.cleanenergy.org/2012/08/02/july-2012/
SACE | Southern Alliance for Clean Energy
parts/content-body.any.php
1. Energy and Water Collisions: Drought Implications
2. Progress Today. Promise for the Future.
3. Nuclear Energy in the Southeast? No thanks!
4.The Birth of the Largest Utility in the U.S.

---
1. Energy and Water Collisions: Drought Implications
The link between our energy mix and climate change
As we enter the dog days of summer, the connection between extreme weather and our nation's energy supply has once more become a hot conversation topic. Faced with shocking numbers of record high temperatures and natural disasters, experts are saying that there has never been anything like it in recorded history. Among the more disconcerting news is that, once again, much of the Southeast region has succumbed to drought conditions, especially Georgia and neighboring Alabama. Nationally, drought is plaguing much of the country and affecting not just the "usual" suspects out West–even presumed "water rich" regions including the South and areas along the East Coast are being impacted by record low rainfalls and blazing temperatures. As we have pointed out before, especially through our recent work with the Union of Concerned Scientists (UCS) on the collaborative Energy and Water in a Warming World (EW3) initiative, our existing electricity infrastructure is especially vulnerable given it's reliance on the availability of abundant water supplies. We've dubbed these possible disruptions "Energy and Water Collisions." Focusing on the Southeast, thermoelectric power plants in Georgia are already the largest water use sector in the state and this may only get worse if proposals to build new coal and nuclear plants materialize. Coal plant technology is incredibly water-intensive; Power4Georgians proposal to build an 850MW new coal plant in Washington Co. could seriously impact local waterways. Nuclear power is generally considered the most water-intensive energy option, and Georgia also has two more water-guzzling nuclear reactors proposed for Southern Company's Plant Vogtle in Burke Co. along the Savannah River.
SACE recently hosted a media briefing (listen to the audio here) that brought together concerned river groups in Alabama and Georgia along with energy and water experts to discuss these troubling dynamics, while also highlighting another recent report for the River Network that delves into the water-energy connection, Burning Our Rivers: The Water Footprint of Electricity. All of this attention and collaboration finally being paid to the energy-water connection underscores the need for water and energy planning to go hand-in-hand, along with considering the future implications to both from climate change. John Rogers, a UCS senior energy analyst and co-author of the EW3 report, said:"Even though people think of the eastern U.S. as having plenty of water, current problems and trends in water demand and supply show that energy-water stresses will only increase in lots of places. Research shows that climate change has and will likely continue to increase the frequency of drought in certain parts of the country, including in the Southeast, making low- or no-water options like wind, solar photovoltaics and energy efficiency even more valuable."SACE believes it is long overdue to start planning for tomorrow in order to ensure that future generations not only have clean, safe and affordable energy supplies but also plentiful water resources. Thankfully there are many energy choices available that are less water-intensive and low-carbon emitting including energy efficiency and conservation and renewables, such as solar and wind. And there are technology options available that can reduce water use at existing power plants. Beginning to understand the water-energy connection and committing to work to prevent future energy water collisions from happening is of paramount importance not only to our region here in the southeast, but also across the country and globally. To get involved and learn more, please visit the Energy and Water in a Warming World initiative.

---
2. Progress Today. Promise for the Future
2012 South Carolina Clean Energy Summit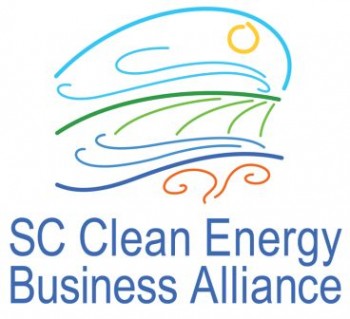 Last month SACE Coastal Climate and Energy Coordinator Chris Carnevale, had the pleasure of attending the South Carolina Clean Energy Summit. The summit, hosted by the South Carolina Clean Energy Business Alliance, brought diverse stakeholders together to discuss the state of affairs of clean energy in the Palmetto State. The conference provided updates from state leaders in clean energy technologies such as solar, wind, biomass, energy efficiency and alternative fuels. Utilities, politicians, academics and various professionals helped paint the big picture. Private sector businesses, such as GEAR Solar and Coastal Geoexchange LLC, displayed their products and services, lending a face to the robustness of South Carolina's clean energy industry, from fabrication to installation. Former Congressman Bob Inglis, the keynote speaker, was a crowd favorite as usual. His appearance was eagerly anticipated in the wake of the recent announcement of his new politically conservative initiative to curb greenhouse gas emissions. His message: an unbridled free market approach of attaching all true costs to all fuels and eliminating all fuel subsidies would reveal clean energy as the clear winner and the answer to our nation's energy concerns. Some previous SACE blog posts have dealt with these subjects – "Greenhouse Gas Regulation Not As Costly As Global Warming" and "Attention Deficit Hawks: Renewable Energy Provides Way Forward", for instance. While several energy activists' conclusions are somewhat different from Inglis', both perspectives point toward the same truths: high risk energy sources are much costlier to the public than clean energy, and renewable energy should be the true conservative's fuel of choice.
However, a highlight of the conference was the preliminary "sneak peek" presentation of Clemson University's forthcoming report on the economic impact of the wind industry in South Carolina. We don't want to spoil the surprise of the reports' facts before its official release, but let's just say that South Carolina's wind industry is a force to be reckoned with. This report will help wind advocates tell the story of how and why offshore wind would be an unmatchable opportunity for the state and region. Underscored throughout the conference sessions was the theme that the industry is ready for more work, with the work force and the technology ready to deliver, but we need supportive policies and broader acceptance and awareness on the part of the general public. Increased nationwide market penetration of renewable energy technology and the further exposure year by year of the risk of conventional fossil fuels and nuclear energy help demonstrate not only the feasibility, but also the clear need for clean energy solutions. The South Carolina Clean Energy Summit helped clean energy advocates come together to discuss what opportunities exist for us and how to take advantage of them. Thank you South Carolina Clean Energy Business Alliance for organizing the great meeting!

---
3. Nuclear Energy in the Southeast? No thanks!
Know Nukes Y'all Summit in Chattanooga
At the end of June, in the blistering heat of Chattanooga, Tennessee, over 120 activists converged at the kNOw Nukes Y'all Summit to learn, strategize, and build relationships across the South around nuclear issues. The summit was intergenerational – young people as well as activists who have been bravely fighting nuclear power since the first wave of the environmental movement in the 1960s, had a chance to meet, build relationships, and learn together. Summit participants got to learn a lot of this from incredible nuclear activists such as Mary Olson of the Nuclear Information and Resource Service, long-time clean energy proponents such as S. David Freeman, a former TVA chairman, and even nuclear experts like David Lochbaum of the Union of Concerned Scientists (who worked within the industry in may capacities and eventually became a whistleblower of the industry). Did you know:
Building new nuclear plants is not cost-effective. Nuclear loan guarantees, tax incentives and anti-consumer state legislation are making it easy for nuclear utilities to pursue building new nuclear reactors with huge price tags.
Uranium is a finite resource. Uranium mining and processing is dangerous and resource-heavy.
The nuclear industry does not have a plan to deal with radioactive by-products of uranium mining.
Nuclear power is generally the most water-intensive energy technology requiring vast volumes of water.
"Disposal" of radioactive nuclear waste does not exist. In the U.S., low-level radioactive waste is required to be contained for 1,000,000 years.
In our eagerness to stop Big Coal, we are letting the nuclear industry sneak its way back to the forefront. If we don't engage our communities and our campuses for a carbon-free AND nuclear-free future NOW, we will be fighting the same fight again, just shifting from Big Coal over to Big Nuclear, and never getting anywhere with the renewables and energy efficiency advancements that we know can really create the clean energy economy we so desperately need.We are smart enough and savvy enough to stop the nuclear industry from putting our communities at risk. SACE was lucky enough to get the chance to participate in a movement-building breakout with about 15 other incredible activists – young and old. In the breakout, we discussed how we could work to build the nuclear movement by facilitating more action in higher risk communities, and building momentum against new nuclear with a big push against Vogtle in Georgia, and coordinated actions across the country around other proposed plants. In Florida, for example, we'll join in on a coordinated effort to take action against the four new proposed reactors in our state. So, join the movement to make our future a carbon-free, nuclear-free one. If you're in Florida, join us at http://stopnucleartax.com/. If you're in Georgia or would like to learn more about organizing to stop Plant Vogtle, go to http://www.stopplantvogtle.com.

---
4. The Birth of the Largest Utility in the U.S.
Thoughts on the Duke-Progress Merger
The completion of the merger between Duke and Progress may well represent the beginning of big changes for electric utilities in the Southeast. SACE's relationship with both Duke (in the Carolinas) and Progress (in the Carolinas and Florida) covers a range of issues. Sometimes we cooperate closely, on other topics we have nothing in common. The surprising, sudden change of leadership after the merger was finalized led to a North Carolina Utilities Commission hearing in late July . The conclusion of the hearing showed us only that there are still a lot of factors yet to be resolved, and only time will tell just how this alliance will play out. As an invested stakeholder in this process, SACE is working hard to evaluate the current situation and determine exactly what these merger dynamics will mean for ratepayers and for the future of our region's energy mix. At the forefront of our minds are a few key questions: what does this merger mean for the Southeast's market structure? What will this largest utility do with energy efficiency and coal retirements? And what will their future generation look like? SACE Director of Research John Wilson has already tackled the issue of market structure in a recent blog post. In addition to giving his thoughts on the importance of the different leadership styles that Duke CEO Jim Rogers and Progress CEO Bill Johnson have, John highlighted that there were concerns that Federal Energy Regulatory Commission would use the merger as a wedge to open up energy markets in the Southeast. A valid concern, given that we recently learned an FERC ruling did indeed fuel friction between the two companies and cause confusion over the merged utility's future direction.
Some of the confusion about future market structure may be centered on what modernizing energy generation actually means, however. "In the 20th century, the goal was universal access to electricity," Rogers, pictured left, once reflected. "In the 21st century it will be about modernization." A National Energy Technology Laboratory report emphasizes that utilities and their regulators haven't figured out what modernization is yet. When they figure out exactly what it means, the grid modernization advocates will be challenging the very heart of what regulators and utilities (at least in the Southeast) think it means to be an electric utility. Centralized generation, control and finance are each replaced by something more, well, complex and (we hope) responsive. SACE will continue to look into the market structure impacts and other key issues that are at the heart of the Duke-Progress merger disputes. One thing we do know: even in what is arguably the region with the most anti-market form of utility regulation in the country, there are signs that customers will be engaged around energy efficiency, and signs that companies wish to challenge central generation with new resource alternatives. Make sure to keep an eye on our blog as we continue to evaluate the nuances and impacts of this merger in the coming months!