Guest Blog
| May 21, 2015
| Energy Policy, Solar
Solar energy is booming – and you needn't look further for proof of its success than Brian H. Potts' recent op-ed in the Wall Street Journal. When a utility lawyer like Potts is arguing for what type of solar energy our country should be investing in –utility-owned, large-scale solar versus customer-owned, rooftop – you know this renewable energy resource has gone mainstream. And that's a good thing.
We should support a wide variety of clean energy resources precisely because these technologies eliminate the costs of pollution now being socialized by fossil fuel generators. And this is becoming all the more critical as the costs of a changing climate grow.
Rooftop solar incentives deliver benefits
As Potts points out, the price of solar panels has fallen by 80 percent since 2008. This significant decrease in cost – coupled with incentives like net metering that allow customers to send the surplus energy they produce from their solar systems back to the grid and receive a credit on their bill, plus the emergence of new financing models like solar "leasing" programs – has led to an explosion of rooftop solar in the U.S.
Even though these incentives and loan programs have resulted in localized health benefits and unprecedented energy savings for millions of American families and businesses, Potts' believes our money would be better spent if we invested it in more "cost-effective renewable sources of power" like utility-owned, large-scale solar systems.
While perhaps not equal to large, central solar plants owned and operated by utilities, the price of distributed solar installations are plunging, and the returns growing.
In 2012, rooftop solar panels cost about one percent of what they did 30 years ago. Solar leasing models and policies like net metering and tax incentives have served as a necessary precursor and an enormous catalyst to distributed solar development, making solar energy a more attainable option for American families and small businesses.
That's why it's imperative we keep these incentives in place. It is important to remember that these solar policies are working in the real world. They are helping to drive the current boom in solar generation, and eliminating them – as Potts suggests – would undermine the very policies helping to accelerate our nation's transition to a clean energy economy.
Incentives like net metering deliver many benefits that Potts does not address. For example, net metering spurs the production of electricity on-site where it's consumed, which can help reduce the strain on distribution systems and cut the amount of electricity lost to long-distance transmission (estimated at seven percent in the U.S.). Net metering, moreover, tends to reduce greenhouse gas emissions by incentivizing people to adopt renewable energy and become more aware of energy-saving opportunities.
And Potts' argument that net metering isn't fair to those who don't invest in rooftop solar is just plain wrong. A recent study sponsored by the California Public Utilities Commission found that, on average, net metering customers pay more into the system than the costs they create; that is, they're still contributing more than their fair share at around 103 percent cost recovery.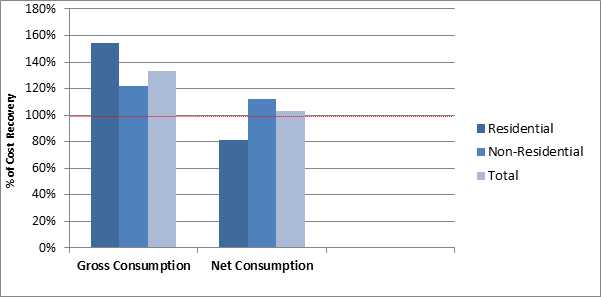 Net metering customers contribute an average of 3% more than their fair share to the grid. Source: CPUC
A diversity of solar projects for a diversity of customers
Net metering aside, there are other types of local solar that can help reduce costs and negate structural, shading, or ownership issues associated with rooftop installations. Community solar allows customers to "subscribe" to larger solar arrays located in their neighborhood. The subscribers then get a credit on their electricity bill for the energy produced from these community solar projects through a process called virtual net metering. This model is particularly attractive to renters, apartment dwellers, and low-income communities who may not otherwise be able to join the solar revolution. Although Potts does not address this kind of local solar, it offers benefits utility-scale solar cannot.
Also, many of these systems are now on vast warehouses and big box retail roofs. As a whole, the top 20 big-box retailers have over 18,000 U.S. stores, representing enormous potential for solar power growth. These retailers are only part of a larger group of commercial customers, which in total make up about one- third of U.S. electric utility sales. But other commercial customers are turning to solar too. The National Renewable Energy Laboratory reports 40 percent of the nation's 86,000 supermarkets are located in areas with grid parity (i.e., the cost of power from solar panels is equal to or less than the cost of buying power from the utility).
Rooftop solar will keep getting cheaper
Finally, recent power purchase agreements with third-party solar providers are allowing global corporations like Google, Apple, and Walmart to develop their own economies of scale. Apple, for example, made headlines earlier this year when it signed a 25-year contract to buy solar energy directly from a third-party solar provider – securing enough electricity to power essentially all of the company's California operations for less than half the cost it would pay to a utility. New finance models like yieldcos, which allow companies to distribute profits from power sales to their shareholders in the form of regular dividends, are also allowing renewable energy developers to further scale rooftop solar affordably like never before. This financial tool didn't exist three years ago but is on track to become a $100 billion market this year.
Utilities' real concern: Impacts on their profits
It's not surprising why Potts would argue against rooftop solar. Analysis from a recent Lawrence Berkeley National Laboratory study shows, even under the most aggressive expansion of rooftop solar the researchers studied, shareholder (or utility) profits would be impacted more from net metering than customers' electricity rates. It would appear these efforts to attack rooftop solar and related policies like net-metering are more about disruptions to profits than negative impacts on customers or the planet.
We agree the role of renewables, especially solar, in reducing greenhouse gas emissions is critical to managing climate change. And continued support – for all types of solar energy – is essential.